Looks We Love: Muhammad Ali & Grandson Pose For New Louis Vuitton Ad
Looks We Love: Muhammad Ali & Grandson Pose For New Louis Vuitton Ad
Muhammad Ali and his grandson Curtis Muhammad are featured in a new Louis Vuitton ad that is scheduled to hit magazines this month.  Ali and his grandson join others celebrities who have worked with Louis Vuitton including Angelina Jolie, soccer player Pelé and musician Keith Richards.
According to the The Wall Street Journal:
The ad, which will run in magazines and newspapers in 60 countries, seems to capture Mr. Ali in private reverie. Photographed last month by Annie Leibovitz in his Phoenix backyard, Mr. Ali watches with pleasure as a young boy stands with fists gloved, feet splayed, chest puffed. Though not identified in the ad, the child is his grandson, Curtis Muhammad Conway Jr. A $1,525 Louis Vuitton "Keepall 50″ bag lies by Mr. Ali's left foot….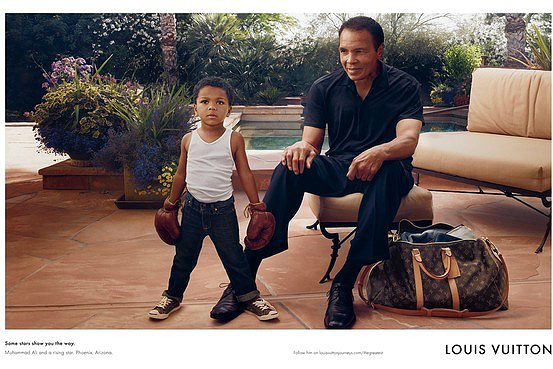 This ad is too cute for words! Love it!