The Metropolitan Museum Costume Institute Benefit Gala aka The Met Gala (or Met Ball) was May 6, 2013 in New York.  The annual event raises money for the Costume Institute and launches the spring exhibit. To date, the event has raised over $100 million. Each year, an exhibit is given a theme. This year's theme is PUNK: Chaos to Couture.
One of the highlights of the gala is the red carpet. It's always exciting to see what the attendees are going to wear. This is the one time where the outfit choices can be a little unexpected; after all the gala does support a Costume Institute. While the red carpet choices were fabulous (Amber Heard, Taylor Swift, Jessica Alba and more looked stunning), there were a few people that stood out and embraced the punk theme or really embodied what I expect to see on The Met Gala red carpet.
Here are my favorites!
Anne Hathaway
Who is this woman and what has she done with Anne Hathaway?! Anne turned in her classic look for blonde hair and a vintage Valentino gown from 1992. HOT!!!
Nicole Richie
This is what I'm talking about. The theme is punk so why not go all out!? Nichole Richie arrived at the Met Gala in a white long sleeve Topshop gown and bleached white hair.
Miley Cyrus
Normally I'd hate this look but it works for the theme. Miley Cyrus showed off her punk style in a fishnet dress by Marc Jacobs and spiked blond hair.
 Madonna
On any other red carpet this would not work, but for the Met Gala, this Givenchy Haute Couture outfit is perfect! Should we be surprised that Madonna owned this theme? I mean, it is MADONNA!! All we need to do is take a trip down memory lane and look at some of her looks from the 80s/90s to know that achieving this look was not hard.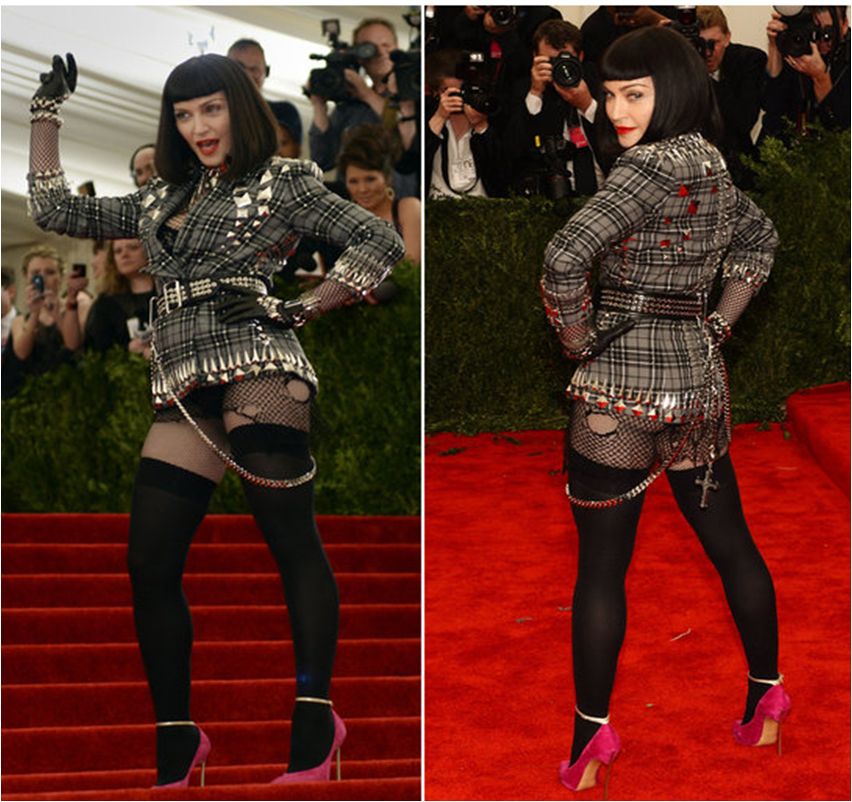 Sarah Jessica Parker
If you're going to show up at the Met Gala, you might as well show out! Can we talk about the Phillip Treacy Mohawk headpiece?! This masterpiece combined with the Giles Deacon gown and thigh high Christian Louboutin boots is perfect for the Met Gala! SJB will always be Carrie Bradshaw. I'm just sayin…
Rooney Mara
The white laced dress and strong shoulders paired with the dark lip is a great mix of femininity and edginess. Rooney wore a Givenchy gown and served as the co-chair of the event alongside Givenchy designer Riccardo Tisci and Anna Wintour.
Minka Kelly
Minka Kelly looked great in Carolina Herrera.  Perez Hilton described this look perfectly; a combination between punk and Greek goddess.
Nina Dobrev
Leather and a corset; two must haves if you want to encompass punk into a look. This Monique Lhuillier look is not over the top edgy, but like Minka and Rooney's outfit, it's a nice mix of edginess and softness with the lace. And I love that there are lace pants underneath the skirt. Something very different than what we're used to seeing on the red carpet. I'd wear this outfit for sure.
Jennifer Lopez
I was going to stop the list at Nina Dobrev but then I went through some pictures of the red carpet again. I don't know if animal print is punk, but this Michael Kors dress is HOT! J.Lo added her own interpretation of punk with what looks like a Mohawk inspired hair style and smokey eyes.  This woman can wear anything!
What looks did you enjoy from last night's Met Gala?
Source: PopSugar, Us Magazine and Radar Online