Look For Less: Beyoncé's White Gucci Jumpsuit & Platform Sandals
Look For Less: Beyoncé's White Gucci Jumpsuit & Platform Sandals
Beyoncé stepped out for the Chime for Change one year anniversary party last night in a fabulous all white Gucci jumpsuit. The jumpsuit features a deep v-neck, banded waist and straight leg pant with pleaded pockets. She paired the look with platform ankle strap sandals and a gold box clutch.
You all have heard the phrase "less is more" and this is a prime example of that statement! Given the color and cut of the jumpsuit, jewelry isn't really needed.  The look is fresh, simple yet chic. Since we are headed into the summer season, a jumpsuit similar to this would be perfect for an all-white party; especially for those who want to shy away from wearing a white dress. As I've mentioned before, jumpsuits are a great alternative to dresses and are becoming more and more popular!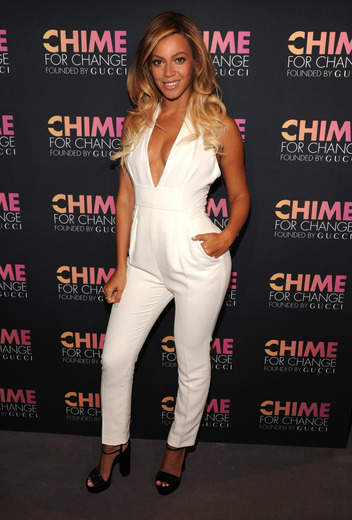 I couldn't find a DEEP v-neck white jumpsuit like this Gucci one online, but you can recreate this look with the jumpsuits below. Asos offers a v-neck Warehouse Jumpsuit. Size 10 is the only size left.  Other brands to try for a v-neck silhouette include Rachel Zoe and Trina Turk.
ASOS
Rachel Zoe
If you want to add an all white ensemble to your wardrobe this season, recreate Beyoncé's look with the jumpsuit, sandals and clutch selections below!
Feeling inspired to try a white jumpsuit this season? I love Solange's look too. Another look for less coming soon…
Photos: YBF/Getty Images