'Scandal'ous Look For Less: Ms. Olivia Pope
'Scandal'ous Look For Less: Ms. Olivia Pope
Besides all the drama on the show, Scandal is known for Olivia Pope's wardrobe! For the past 30 episodes, we have all drooled over her leather gloves, white trench coats and structured jackets.
Last week while watching the season 3 premiere, my friend Jasmine requested I feature a post on how to dress like Olivia Pope for less. After all, the Burberry white trench coat she wore during the premiere was HOT, but everyone doesn't have $1,000+ to drop on a coat.  So this post is for all of you Scandal fans that want to dress in Olivia Pope chicness without paying the high end designer prices.
Keep in mind the outfits below serve as INSPIRATION! All pieces featured are under $500. If you see pieces here you like, check your wardrobe to see if you have anything similar that you can put together. If you don't, create a shopping list to shop for similar pieces. If you want the details of any pieces featured below, click on the image. I've also included links for some of the must have Olivia Pope wardrobe items. When shopping or putting together looks from your wardrobe, keep in mind that the foundation of an Olivia Pope wardrobe is neutrals and structure.
Once thing Ms. Pope loves is a structured jacket. Whether it's a tweed, peplum or has an asymmetrical zipper, the structured jacket screams authority and chic at the same time.
Shop for structured jackets with interesting details. If you notice the jackets create shape. Pair them with neutral pants; here the grey tweed jacket is paired with black trousers and the cream jacket is paired with grey trousers. When it comes to jewelry, Olivia Pope isn't flashy so keep things simple with stud earrings, a watch and a ring. Complete the look with your favorite lipstick. Shop LOFT, Loehmann's, JCPenny, and Dillard's for tweed jackets.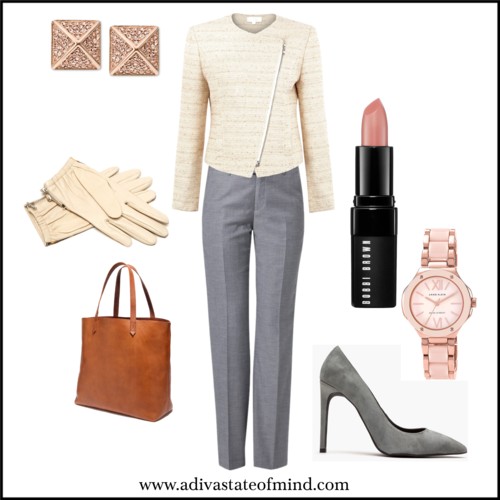 One neutral Ms. Pope loves to wear is white! Last season we saw her wear a fabulous Tori Burch white trench coat and this year everyone was drooling over the Burberry Spring 2013 White Caped Dust Coat she wore during the season 3 premiere. We also see her wear a lot of blouses with one or two strand necklaces and dress pants.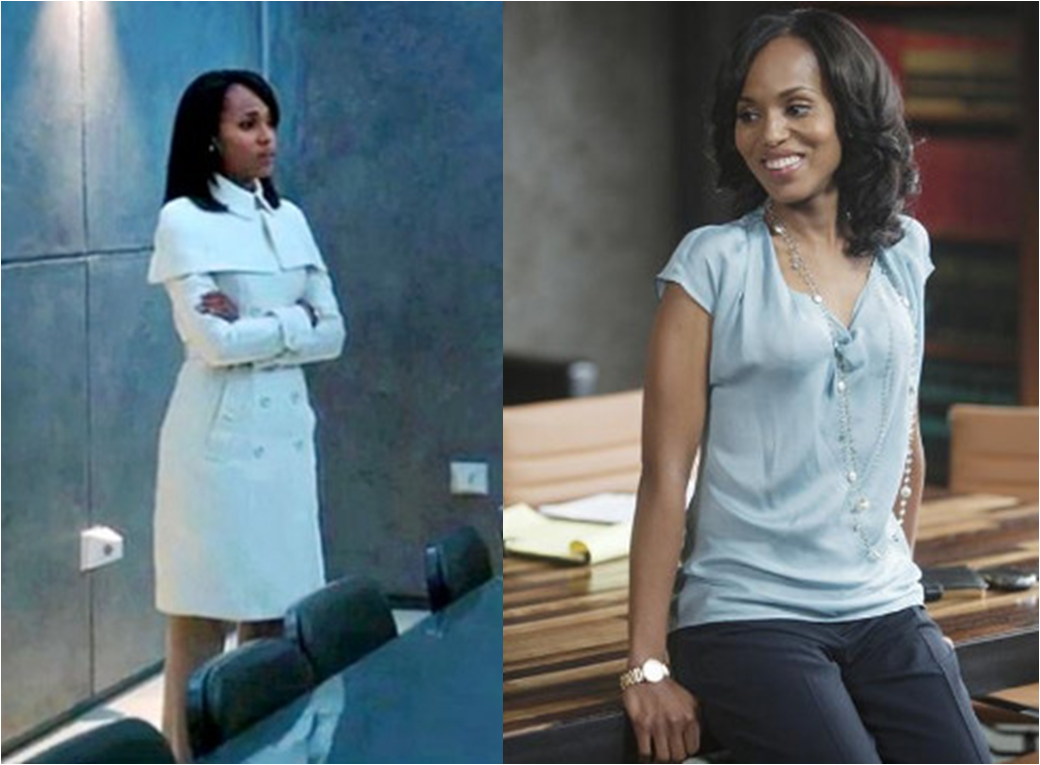 Recreate the looks above by pairing a neutral pant with a light color top. Complete the look with neutral accessories and a white trench coat. You can shop Bon-Ton, ASOS, Zappos, White House Black Market (also available in Petite) and 6pm for trench coats.
If you're going to dress like Olivia Pope, not only do you need a white trench coat, but you also need a fabulous coat with a drape or wide collar. This detailing takes the presentation of the coat up a notch by adding some visual interest.
Search for coats that have a similar detail. I immediately thought of Olivia Pope when I saw the OASIS Short Drape Coat featured in the look below. The site actually has a few drape coats that will surely take your outerwear to the next level. If you can find a short sleeve drape coat, you can pair them with a long leather gloves (like the ones we couldn't stop talking about on the show last year)! Of course, the palette underneath the coat is neutral, which allows the outerwear to be the statement piece. Shop OASIS, ASOS and Banana Republic for drape coats.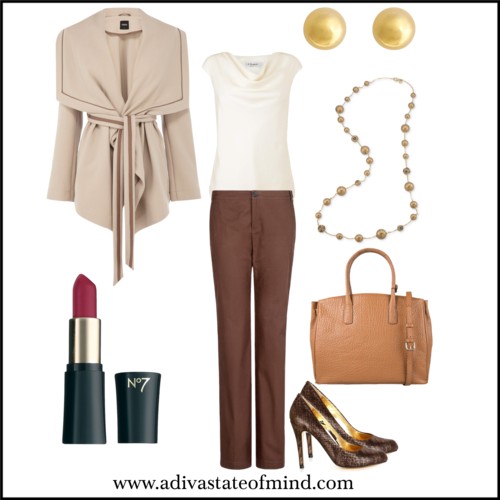 The final Olivia Pope inspired look had to include the long leather gloves! I would be doing you a disservice if I didn't feature them here! Ms. Pope is known to wear her gloves with 3/4 length jackets, either dressed up or dressed down (she's holding them in her hand in the picture on the right).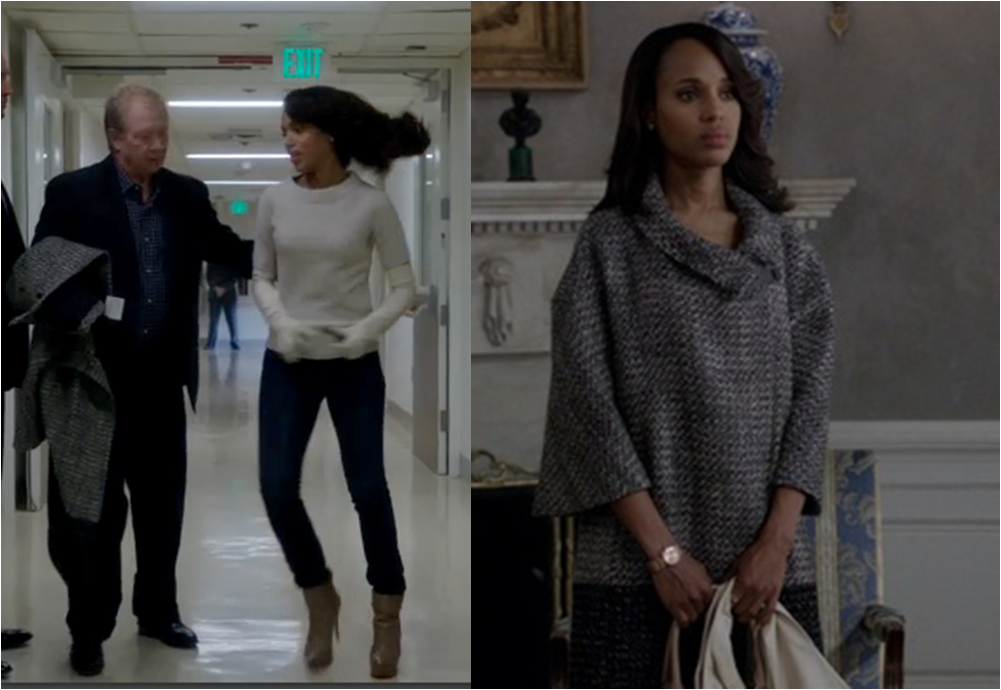 Although we see her dressed up 90% of the time, there are a few times when she dresses a little more casual. To remain just as chic in a more casual outfit, you can pair your favorite skinny jeans with a short sleeve sweater and booties. Complete the look with a 3/4 length jacket and long leather gloves in the color of your choice.  Shop Nordstrom, Lord & Taylor, Bloomingdales, Max Studio, Mango for gloves.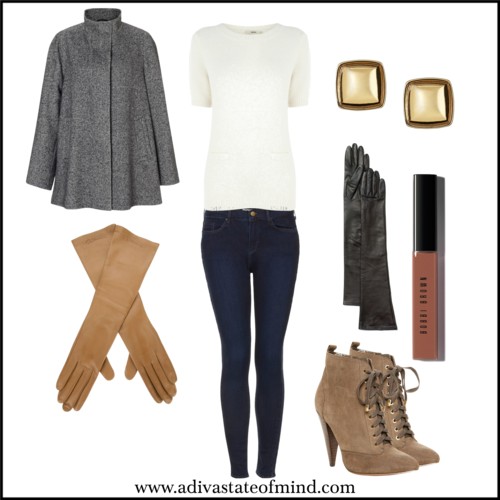 What do you think of the looks? Feeling inspired to dress like Olivia Pope?
P.S. How crazy was the season 3 premiere?!?! I'm looking forward to this season!