Love Life Media (LLM) is a boutique Public Relations, Branding and Event Management firm based in Washington, DC. LLM's mission is to bring Positive Projects, Entertainment and Inspirational Pop Culture to the forefront of today's media.  To celebrate those making positive waves in their industries and encourage young professionals to network and expand their brand, LLM is hosting a black-tie business gala on Saturday, December 7, 2013.
The gala will be a multi-dimensional event that will include prizes, competitions and tips for young professionals leading up to the event. One of those events is a twitter chat with me! I'll be providing fashion tips this Thursday, October 10th at 7pm! If you have any fashion related questions, I'm here to answer them! Use hashtag #4PSocial.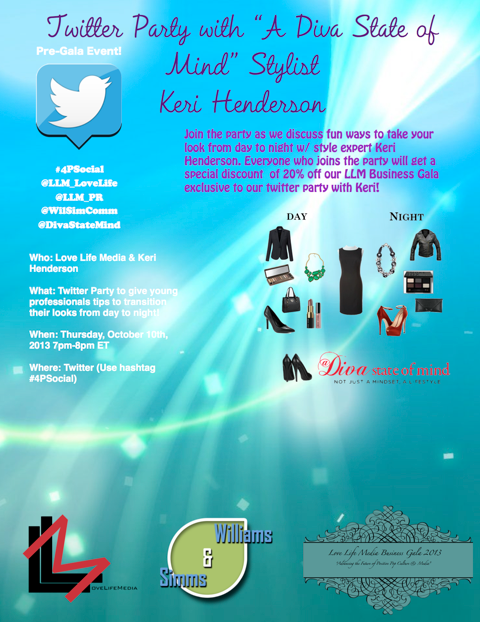 Attendees at the gala will enjoy a full 3-course meal, live entertainment, artistic vendors and more! If you are interested in attending, I have a treat for you! If you purchase a ticket between now and next Thursday, you'll enjoy 20% off an early bird ticket. You must purchase a ticket using this link HERE. Scroll to the bottom and purchase the "Twitter Party" ticket.
I hope you'll join me for the twitter party and business gala in December. After all, who doesn't like getting dressed up!
Purchase tickets via http://llmgala2013-es2.eventbrite.com/?access=TwitterParty10