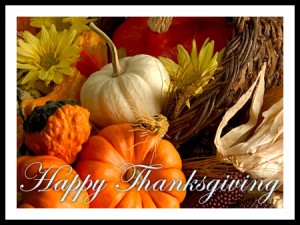 The holiday season is here, so I will return next week with new posts to start off the last month of the year! 
During this time of Thanksgiving, I want to say THANK YOU to all of you, everyone who has ever read A Diva State of Mind. Thank you for your support over the last 14 months.  The blog could not have grown without your help and support.
I'm working hard to continue to grow A Diva State of Mind so I hope you all will continue to join me for that journey. 
Have a great Thanksgiving and holiday weekend with family and friends.  For those of you traveling, I hope you have a safe trip to your final destination. For those of you taking part in Black Friday please be safe; the malls will be crowded when they open at midnight!
HAPPY THANKSGIVING!!